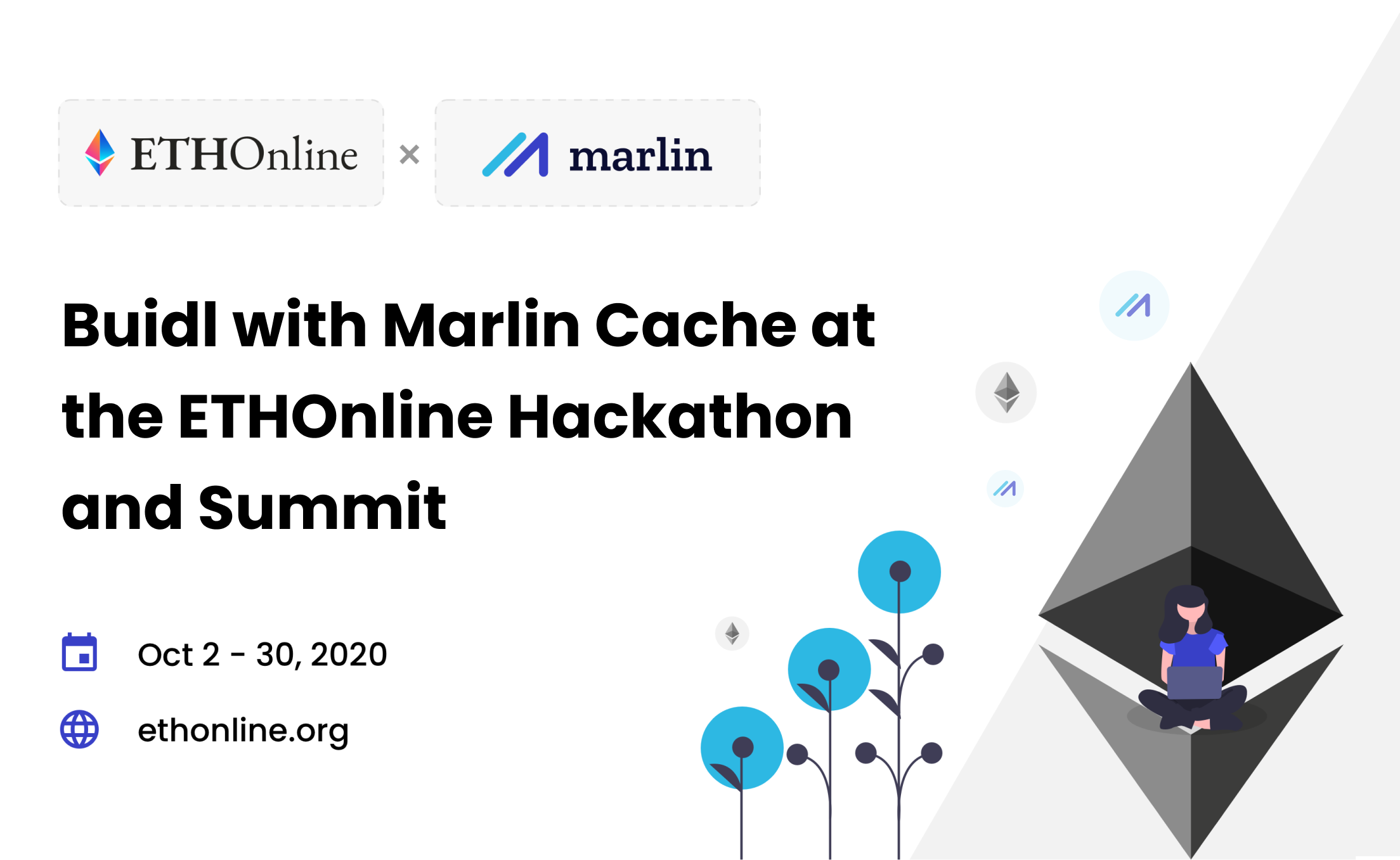 Buidl with Marlin Cache at the ETHOnline Hackathon and Summit
October 22, 2020 | Contributor
Running up to our launch and teasing FlowMint a few days ago, we wanted a platform to showcase one of the latest products we've built - Marlin Cache, a simple API to provide Web-2 like performance to dApps. What better way than the ETHOnline, a Hackathon and Summit which we're thrilled to be sponsoring, and for obvious reasons – it's ETHGlobal's biggest event of the year happening from 2nd to 30th October.
Hackathons are a great way to introduce new products to eager developers looking to build the next hot thing in the blockchain space - which at the moment is in DeFi or NFT.
The Marlin Cache 
We released a detailed blog recently explaining Marlin Cache. The TL/DR version is if you're a developer building your DeFi or NFT project and interested in reducing the 250ms to 1.5 sec latencies incurred in blockchain API requests, you're probably going to need Marlin Cache (which currently supports the Graph and Infura).
The Cache does all the heavy lifting for the developers, allowing them to focus on what they do best - building awesome stuff! Our workshop video covers why the Cache is needed, a live demo on how it works and the integration which takes less than 3 minutes! Have a look! 
The Hackathon Prizes
The devs have had at it for three weeks with the deadline ending on 22nd October at 23:59 ET! We can't wait to see what's been built!
We're awarding a total of $5000 (the prize pool cap) for teams who build using Marlin Cache. 
- Most compelling DeFi project - $1,300
- Most compelling NFT-focused project - $1,300
- $600 each for 4x runner-ups
We will be happy to support participants post the hackathon not just financially but also in identifying and developing caching strategies and targeting geographies that ensure their audiences can access their DApps as smoothly and swiftly as any Web 2.0 site.
You don't need to be participating in the hackathon to use Marlin Cache! Those looking to integrate the Cache into their existing DApps can hop straight into our documentation to get started!
Stuck somewhere? Our team is at your disposal on our Discord to help you through whatever technical kinks you encounter.
We're also actively hiring - these events are a great way to meet other crazy like minded people! If you're looking to help build and strengthen the foundation for blockchains and Web 3.0, consider joining Marlin! 
Follow our official social media channels to get the latest updates as and when they come out! 
Twitter | Telegram Announcements | Telegram Chat | Discord | Website