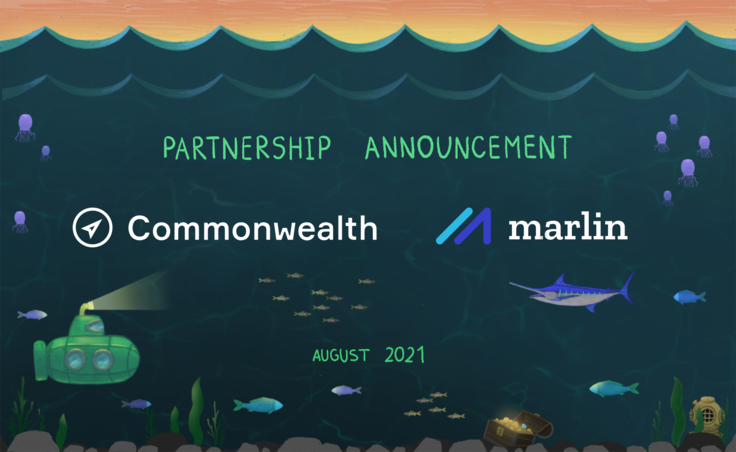 Marlin partners with Commonwealth Labs to build a decentralized community
August 20, 2021 | Contributor
We're delighted to announce our partnership with Commonwealth Labs in order to decentralize the decision-making process with the community while continuing our quest to build and advance the underlying infrastructure and communication systems for DeFi and Web 3.0.
Common Protocol will provide a focused, cohesive, and interactive digital environment where the Marlin community can discuss proposals, project enhancements, and other pertinent topics. Marlin can continue to thrive and build itself in addition to voting and funding, all through Commonwealth Lab's intuitive and collaborative interface.
Dillon Chen from Common Protocol said, "The team at Commonwealth is a big believer in Marlin, and we're all extremely excited for what they're doing to securely and effectively transcend existing DeFi systems and protocols. We hope that our platform sparks new user involvement and adoption in the project, thereby allowing for more decentralized applications to utilize its technology to make DeFi a safer and more transparent place."
"We're excited to utilize and leverage Common Protocol's seamless user interface and platform," said Siddhartha Dutta, CEO of Marlin. "One of our goals was to take Marlin to the next level to better engage our community, and this is the solution for us to do just that. Our entire team is looking forward to this amazing and fruitful partnership as we continue to enhance our project via their services, making DeFi better for everyone."
The Marlin forum on the Common Protocol is already up and running. We've put up five proposals for discussion which would subsequently be put up for a vote. We welcome the community to join in the discussion. Links below: 
Proposal 2: Increase staking rewards for MPond
Proposal 3: Introduce Polygon staking rewards
Proposal 4: Update MPond-POND Bridge
Proposal 5: Make MPond transferable
Proposal 6: Reduce staking undelegation period
To participate, all users need to do is visit https://commonwealth.im/marlin/, click on Log In on the top right and create an account via an Email ID or 'Continue with Wallet' through which users can connect their MetaMask wallet and join the discussion!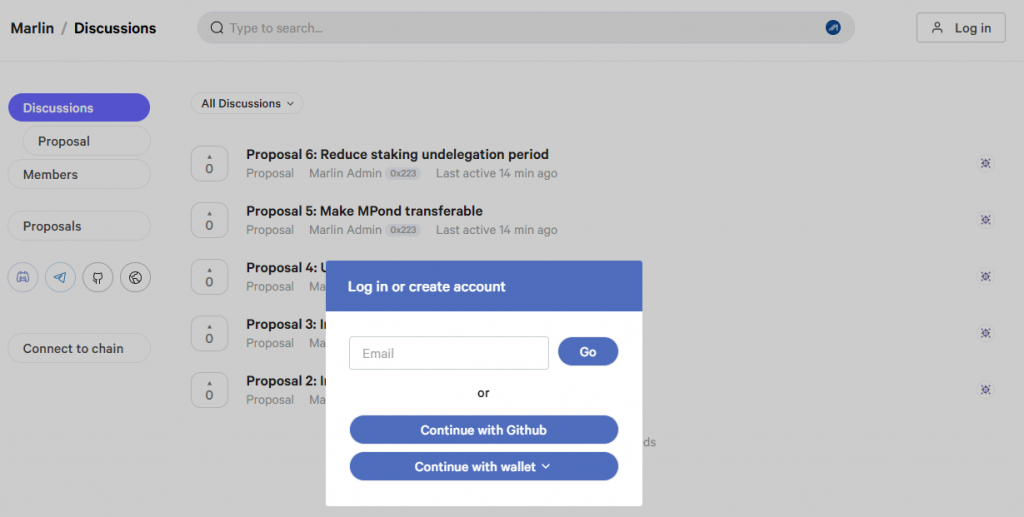 About Commonwealth Labs
Commonwealth is the crypto native, all-in-one community & governance tool used by top decentralized communities. Commonwealth combines the decentralized community use cases for Telegram, Discourse, and Snapshot all into one place. This means on-chain voting, a staking dashboard, an integration with Snapshot, and full activity & user transparency among other capabilities are all available on an intuitive, easy to use platform that encourages community engagement.
About Marlin Protocol
Marlin is an open protocol that provides high-performance programmable network infrastructure for DeFi and Web 3.0. Marlin aims to deliver on the promise of a decentralized web where applications secured via the blockchain are indistinguishable in terms of performance to users accustomed to Web 2.0. Marlin is backed by a prominent group of stakeholders including Electric Capital, Michael Arrington, DHVC, Fenbushi, and the leading cryptocurrency exchange, Binance.
Twitter | Telegram Announcements | Telegram Chat | Discord | Website