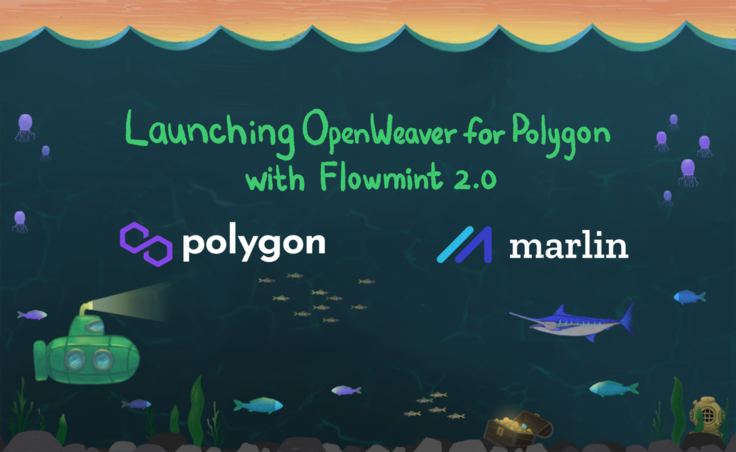 Launching OpenWeaver for Polygon with FlowMint 2.0
August 4, 2021 | Contributor
Polygon supports building and connecting secured chains like Plasma, Optimistic Rollups, zkRollups, Validium, etc, and standalone chains like Polygon POS have witnessed tremendous growth in recent months with over 450+ dapps, 350M+ transactions, and ~13.5M+ distinct users. It's no surprise that with increasing usage come massive networking overheads and MEV opportunities.
We're happy to share that OpenWeaver is now available for Polygon. OpenWeaver enables block producers and full nodes in blockchain networks to send and receive large blocks at latencies close to physical limits while also providing DeFi traders, arbitrage and liquidation bots near immediate access to the transaction mempool.
Usage
Instructions for Polygon validators or node operators to install and use the gateway are available at https://docs.marlin.pro/books/matic-gateway/page/overview-033. Similar instructions will be made available for traders who wish to send private transactions directly to validators and have access to the mempool with low latencies on August 15.
Marlin cluster operators will be able to advertise support for Polygon which will be added as a dropdown option to the dashboard at https://app.marlin.pro/relay/operator.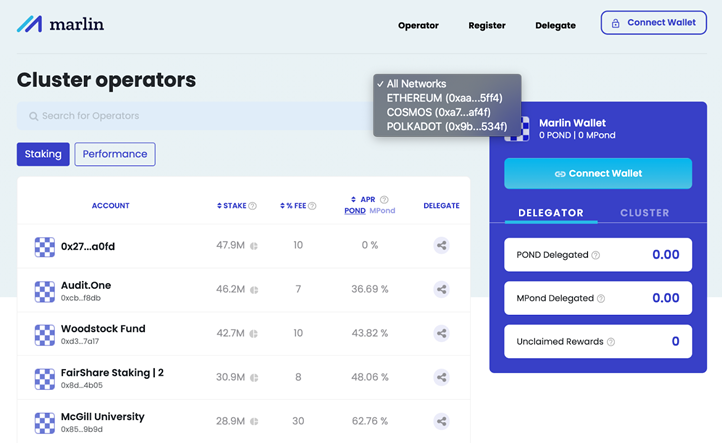 Incentivization through Flowmint 2.0
It's been over 7 months since we announced Flowmint as a mechanism to distribute governance tokens and incentivize the installation of Marlin gateways. The first phase witnessed the distribution of over 400 MPond - a little short of about one-third of the current governance power amongst the community. Information on the number of validators that participated and value of tokens bonded on each chain is presented below.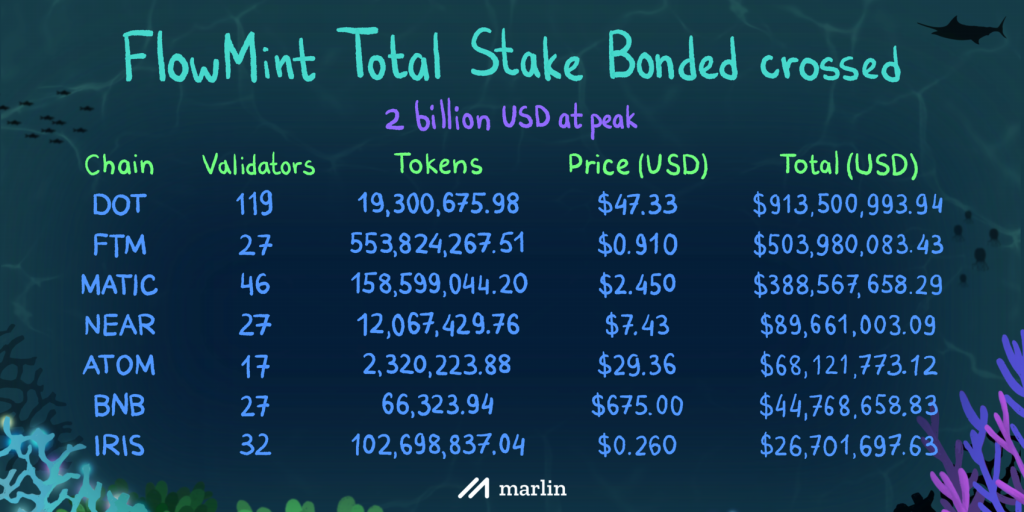 The transition to Flowmint 2.0 will be marked by an update in the reward distribution mechanism. Instead of rewarding whitelisted validators, Flowmint 2.0 will reward anyone running Marlin gateways who push blocks to the Marlin network.
Each gateway is associated with a unique key pair. Every time a gateway sends a block to the network, it appends a signature to the block. Probes use this information to keep track of how many times it first heard a block from each gateway. This data is aggregated and used to distribute rewards amongst gateways.
While a validator also running a gateway would make the validator most likely to win rewards, it is not at all necessary that a gateway operator be a validator. This is especially beneficial in cases where a third party runs a gateway close to a validator's physical location when the validator itself doesn't run the gateway. In cases where every validator runs a gateway, rewards will asymptotically be distributed in proportion to the number of times they produce blocks.
The number of tokens to be distributed in Flowmint 2.0 will be shared together with the start of reward distribution on August 8. While rewards are first being enabled for Polygon, the same shall expand on to other networks including Ethereum and BSC.
About Polygon
Polygon is the first well-structured, easy-to-use platform for Ethereum scaling and infrastructure development. Its core component is Polygon SDK, a modular, flexible framework that supports building and connecting Secured Chains like Plasma, Optimistic Rollups, zkRollups, Validium etc and Standalone Chains like Polygon POS, designed for flexibility and independence. Polygon's scaling solutions have seen widespread adoption with 450+ Dapps, ~350M txns and ~13.5M+ unique users.
If you're an Ethereum Developer, you're already a Polygon developer! Leverage Polygon's fast and secure txns for your Dapp, get started here.
Website | Twitter | Reddit | Discord | Telegram | Ecosystem Twitter
About Marlin
Marlin is an open protocol that provides high-performance programmable network infrastructure for DeFi and Web 3.0. Marlin aims to deliver on the promise of a decentralized web where applications secured via the blockchain are indistinguishable in terms of performance to users accustomed to Web 2.0. Marlin is backed by a prominent group of stakeholders including Electric Capital, Michael Arrington, DHVC, Fenbushi, and the leading cryptocurrency exchange, Binance.
Twitter | Telegram Announcements | Telegram Chat | Discord | Website